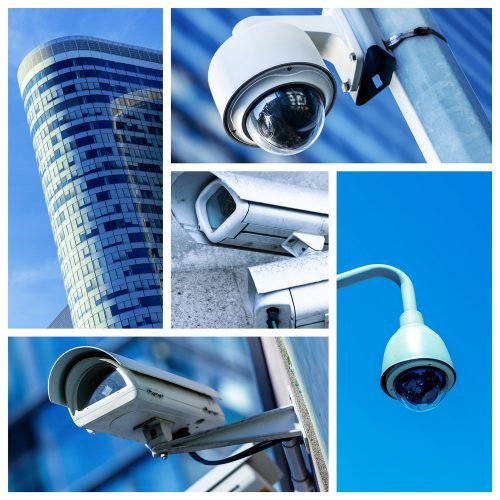 We take care of everything from initial site survey, system design, install by NSI qualified engineers, and finally maintenance and monitoring of your commercial CCTV system to give you the peace of mind that your property and premises are protected when you're not on-site.
When you choose BusinessWatch, you can be sure you'll receive the latest, high quality technology for the best protection possible. Our in-house, expert design team carefully design each CCTV system to best meet your specifications within your budget.
Why should my business install a CCTV system?
Constant Protection – 24/7 coverage of your premises
Reduce Risk – less chance of break-ins and vandalism
Protect Staff – lone workers have the extra protection needed when on site alone
Health and Safety – CCTV cameras can provide evidence of incidents on-site, including cause
Market Research – the retail sector can use CCTV to monitor footfall numbers, a customer journey through the store and which promotional sections are performing the best
Time Management – security cameras can be used alongside other methods to verify staff timekeeping
What Features are Available?
Commercial CCTV systems are today more sophisticated than ever. A whole host of features are available to enhance the functionality and integration to your business. BusinessWatch specialise in designing bespoke surveillance systems to meet specific business requirements.
Features such as intelligent video analytics, thermal imaging, appearance search and tracking, and license plate recognition are now available to take your CCTV system installation to the next level.
What Types Of Camera Are Available?
There are several different types of CCTV cameras to choose from, all with varying features and options. This creates a wealth of types, styles, and configurations which can be confusing. Our knowledgeable CCTV consultants along with our expert design team will ensure you receive the right CCTV system for your business requirements.
Dome CCTV Camera
Dome CCTV cameras are one of the most common types of camera. Suitable for use both indoor and outdoor, the camera gets its name from the dome-shaped housing it sits in. This housing is designed to make the camera unobtrusive, but visible. The dome shape also makes it difficult to tell which way the camera is facing, making it ideal for deterring crime.
Speed dome cameras are also available. These cameras allow an operator to pan/tilt/zoom and spin quickly, giving them a greater ability to focus on specific events.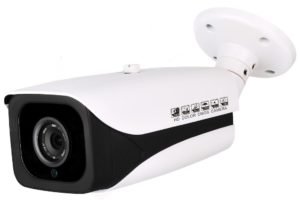 Bullet CCTV Camera
Bullet CCTV cameras are called so because of their long, cylindrical shape. These are often used where long-distance viewing is required, or in fixed locations as they don't typically come with a pan/tilt/zoom option. They can be wall or ceiling mounted and are suitable for both indoor and outdoor use. Protective casings are also available to make the camera waterproof or protected from dust and dirt in challenging environments.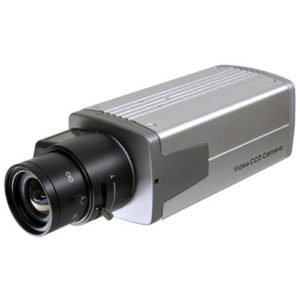 C-Mount CCTV Camera
C-mount CCTV cameras are less common than dome or bullet cameras. They have detachable lenses, so they can be configured to fit different applications. Standard CCTV camera lenses can typically only cover distances of between 35 and 40ft. However, a C-mount CCTV camera can cover distances greater than 40ft with special lenses.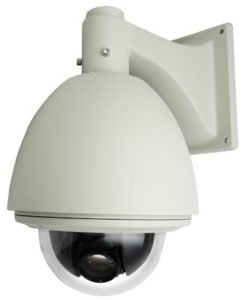 PTZ Pan Tilt & Zoom Camera
PTZ cameras allow the camera to be moved left or right (panning), up and down (tilting) and zoomed closer or farther. These cameras are used in situations where a security guard is there operating and monitoring the security systems on-site. 
Day/Night CCTV Camera
The day/night CCTV cameras have the distinct advantage of operating effectively in both normal and badly-lit or night time environments. These cameras do not have infrared illuminators because they are able to capture clear video images in varying light conditions and in the dark.
The day/night camera is most sited to outdoor applications, and can function with glare, direct sunlight, reflections and strong backlight.
Infrared/Night Vision CCTV Camera
Night-vision CCTV cameras can see images in pitch black conditions using infrared LEDs. They're best suited to outdoor environments where the lighting is poor to zero.
Network/IP CCTV Camera
Whether hardwired or wireless, these cameras transmit images over the internet, often compressing the bandwidth so as not to overwhelm the web. Footage is often stored on network video recorders (NVRs) or accessed via secure software. IP cameras don't require a separate cable to send images over longer distances so are easier to install.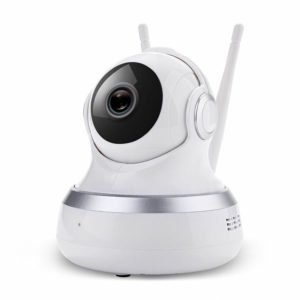 Wireless CCTV Camera
Wireless cameras are exactly that – wireless. They allow greater flexibility in location and are much quicker and easier to install. They're suited to most environments, but locations such as stately homes, museums, churches etc where the presence of wires would be unsightly.
High-Definition (HD) CCTV Camera
High definition cameras have such a high resolution that they're mainly used in high risk environments such as banks, jewellers and casinos. They enable excellent quality images to be recorded of people entering and exiting, as well as the ability to zoom in for extra clarity.